So, the other night the Oscars dazzled onto our screens, showing a lot of bling, expensive suits and to-die-for dresses. However, with every good, there's always the 'bad'. This post i'm going to talk about the best and worst dressed (in my opinion) at the Oscars 2013.
Jennifer Lawrence:
You may mainly know her from the fantastic 'Hunger Games' or even the 'Silver Linings Playbook' with the gorg Bradley Cooper. But for me, Jennifer really stood out in the dress by Dior, which didn't overpower her even with it's sheer size.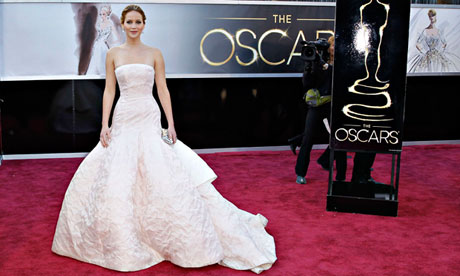 She looked absolutely amazing, the elegant jewellery really blends in well, as it doesn't take too much attention away from the actual dress. The beautiful tiny beaded necklace along with the sparkly ball-drop earrings really work well together, as well as being simple and classy - which is always a bonus.
I applaud you, Jennifer Lawrence, and Dior for this look! Lawrence definitely triumphed the red-carpet and out-staged most of the other celebrities in this masterpiece.
Jennifer Anniston:
All the celebrity 'Jennifers' are fashionistas at the Oscars!
Anniston stuns in this simple Valentino silk red dress, although it's quite a safe option, she really pulled it off and managed to make it look flawless.
However, I also noticed that when this dress was placed within different lighting, (as pictured here) the dress itself turns a deep orange colour, which doesn't go as well as red, but hey, the lights do change perspective!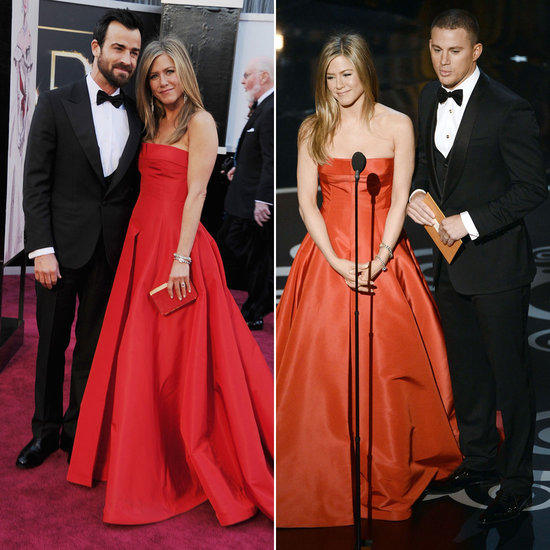 Anne Hathaway:
Don't get me wrong, I LOVE her, but this dress it totally a wrong move, and I SO miss her long hair!:(
The dress itself is just a plain pink silk with cut off shoulders, but the worst part? I think the main show of the dress was the awkward visibility of her nibbles. Erm, we don't want to see that thanks!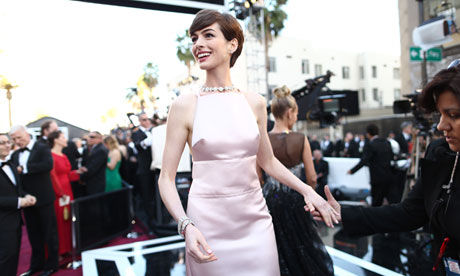 Not only that, I don't think the dress really did much for her, it looked kinda lumpy on the top half, and didn't look as if it fitted properly due to the creases and baggy area near the stomach. Not a great look.
The cut off area at the back is kind of weird also, not too keen on that. The only thing I would say I like would be the lovely necklace and jewelled straps at the back. Better luck next time, Hathaway.
Amy Adams:
Her dress has been slated by so many critics, but I personally don't see what's wrong with it! It's in some of the 'worst dressed' categories but I wouldn't say that at all. It's absolutely gorgeous, the feathers are delicate and flow nicely unlike a lot of other
This lovely grey-coloured dress by
Oscar de la Renta really flaunted her body features, it fitted her trim waist perfectly and made her look stunning in turn.
What do you think to the Oscars 2013 dresses?