Well, I thought i'd dedicate this post especially to the lovely Taylor Swift as to not only compliment her fashion sense, but keeping it cool and professional whilst being in the same room as her previous flame - One Direction's Harry Styles - awwwkward! However, this statement dress by Elie Saab could be her way of showing him what he's missing.

She topped off the sleek look with the famous Giuseppe Zanotti shoes (who Kim Kardashian also favours), 'Neil Lane' jewels and smokey eyes for her stunning makeup.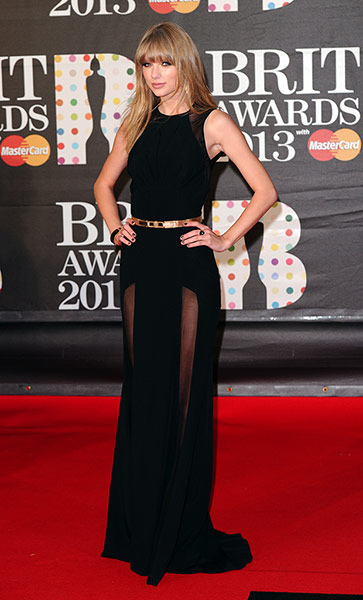 Taylor look absolutely stunning in a clean black, classy dress which flaunted her curves and complimented her body features in all the right places. Even the added gold belt really emphasized the look, by highlighting her trim waist and broke the actual dress down a little rather than just being plain.
Although the dress itself is definitely fit for its purpose - (to wow on the red carpet) the mesh cut outs along arms areas kind of give it a sultry/sexy feel, especially with the thigh-high sheer leg panels. Personally, I think Taylor's trying to change her image. I think that she's trying to get away from the stereotypical 'girl-next-door' role with the pretty dresses and sweet songs, to something more adultery - but not too revealing as she launches into her twenties.
For her performances she opted (or her stylist chose) a lace/embroidery style, one in white and the other in black as to suit different moods of the song. The powerful tune "I knew You Were Trouble" really blasted out of her vocals, obviously aimed at Mr. Styles *cough *cough* Nevertheless, she really came through. Result? Taylor looked flawless, and for me, really stood out against most of the other people at the BRITS.