Yesterday was a very exciting day for only myself, but everyone who calls Leeds their home city. March 21st saw Leeds Trinity open its doors to the public for the very first time, with everything from buskers playing on the street, to designer Henry Holland's show. It was absolutely fantastic, and my images below (sorry for the iphone quality in advance) don't do it justice. I actually daren't take my proper DSLR camera in there, as it was literally HEAVING with people, you couldn't hardly move! It was estimated that around 100,000 people entered Leeds Trinity, and I can tell you now, it did not disappoint.
As you see below, they have yet to open Victoria's Secret! EEK. Can't wait!! However, for the minute there's now a Hollister and other flagship stores and complex's to open up for the very first time outside London. Such as, D&D London, Everyman Cinema (a cinema with sofas!) Victoria's Secret and much much more.
As you may or may not have heard of, Jamie Laing from the reality tv show, 'Made In Chelsea' was also at Leeds Trinity, as he's recently opened up the 'candy kittens' shop which is proving to be quite popular. I sneaked a picture despite the busling crowd! I actually saw him 3 times today, first in that shop, second when I was in Yates - I was just nudging my mum and pointing like an idiot saying 'that's that jamie laing from Made in Chelsea!' and he happened to look through the window at that precise moment, and stared at me like I was a right weirdo hahaha cringe! The final time I saw him when he was at the opposite platform at the train station. (Swear i'm not a stalker haha!) SO weird seeing him that many times!
Oh, and the newest flagship store for 'Coast' were handing out free glasses of champagne. Why not?!
Below are a couple of freebies I got given, unfortunately I didn't get in till about 2 hours after the opening time, hence the lack of goodies! Oh well!
I basically recieved Trinity Leeds leaflets which talks about the brand new 40 stores, resturants and bars all under one roof which spreads out across the city. There's also some hand-out to win a trip to Miami with Superdry, a Boots freebie and some Coast cards - i'll go into more detail about those two below.
Me and my mum were just casually walking around boots, and this guy who worked there just gave us a free reusuable carrier bag with this item inside! So, I was just like okay then, why not?! It was the 'Sinus Rise' starter kit, which i thiiink is for like your nose, perhaps when you have a cold. It says on the box you can use it for:
- Nasal allergies, dryness & Hay Fever
- Nasal Symptoms i.e. cold, flu
- Nasal irritation from animals, fumes, grass, pollen, smoke, dust etc
Basically it's stuff for ya nose!
Last but not least, the lovely ladies at Coast were handing out these cards to passers-by, revealing it to be a sort of lottery system. The three symbols that you had matched, would mean you're entilted to something. The three balloons one was £50 off when you spend £100, the champagne glasses was something like £20 when you spend £50, and the rings were £30 when you spend 100. Unfortunately I didn't get the other one, which was three crowns which meant winning £100! Oh well!
To end this post, I've recently teamed up with
MotelRocks.com
, which entitles you to 20% off with my username! just type in: hannahbriggs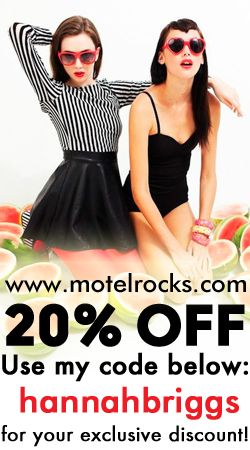 Enjoy!
xoxo