Hello lovelies! The UK saw it's first day of proper warm-feeling sunshine today, which only means one thing - Summer is slowly (very, slowly) coming! So, I thought I'd check out the Summer trends with what's hot and what's not for next season. We've all seen and tried the Monochrome and Varsity stuff, but what I've noticed, is that it's all about oriental florals and prints - in other words, East meets West. We've seen it introduced well in advance at fashion weeks from February, including the big-name designers and brands, such as Jean Paul Gaultier, Mulberry and Prada.
However, for my own personal preference i'm quite enjoying
New Look'
s spring/summer collection, which is quite surprising really. I've recently indulged myself in buying Kelly Brook (for New Look) Collection of swimwear, which was, of course, a gorgeous floral number. Yes, a little pricey for £16.99 for the bra half, and £7.99 for the undies, yet it's totally worth it - especially because it's so limited!
As you can see from the image above, Boohoo.com are also getting into the florals vibe, with tunic-style dresses and printed trousers. What's great about Boohoo, is that they offer a great range of clothing at an affordable price - so you can't go wrong! Not only that, we're seeing the flower-headband craze being replayed this year, with floral crowns becoming a Summer must - not just for the Festivals.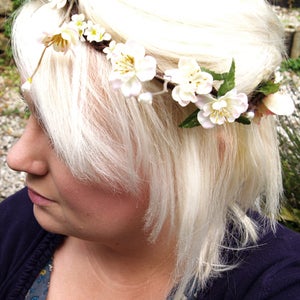 In terms of floral crowns, you check out some BEAUTIFUL ones over at www.crownandglory.bigcartel.com - honestly, they're amazing.
What do you think to the Summer trends? Are florals and prints for you?
_______________________________________________________________________
email: hannah@boxofficeit.com / trustinvogue@gmail.com
instagram:
hannah_briggs
twitter:
hannahbriggs_